17th Annual


The Harmony Sweepstakes A Cappella Festival, the premier American showcase for vocal harmony music, celebrates its 16th year in 2000. The annual national competition draws from hundreds of vocal groups from around the country with regional competitions in eight cities. The winning group from each festival is flown to perform in front of celebrity judges and a sold out house of enthusiastic a cappella fans at the National Finals.
2001 Chicago Champions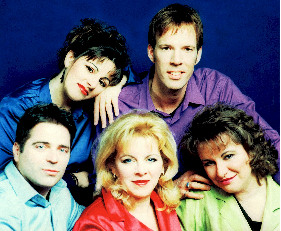 Voice Trek
Voice Trek is described by critics as "world class," and is known for superb blend, complex harmonies, and creative musical arrangements. Voice Trek is a well-respected ingredient on the Minnesota music scene, and is a two-time winner of the Minnesota Music Award's "Best swing and mainstream jazz vocal group".

This vocal quintet was formed in 1987 and continues into its fourteenth year with all the original members. Voice Trek consists of three sisters, Shelley (Soprano), Vicki (Second Soprano), and Rae Plaster (Alto), Denis Allaire, (Music Director/Tenor) (a brother-in-law), and Kevin Smith (Bass), (a brother by association!). This "family" of singers has an eclectic repertoire, including jazz, classical, sacred, folk, parodies, and children's favorites. They have toured nationally and internationally, (including Montreal & Montreux) presenting concerts and conducting jazz residencies. Until last year, the group worked with a five piece instrumental backup band. This past year Voice Trek ventured into the exciting, fulfilling world of a cappella singing.

Currently working on their seventh recording, Voice Trek is taking a "journey of the voice" with "An A Cappella Trek", to be released in Summer 2001. Voice Trek has been heard on Minnesota Public Radio, KBEM (Minnesota's premier jazz station), the nationally-syndicated Christian radio program NIGHTSOUNDS, and numerous jazz and adult contemporary radio stations around the country. They've appeared with such luminaries as Rosemary Clooney, Janis Siegel, the New York Voices, and the Christian group GLAD. Checkout their website at www.voicetreksings.com, or e-mail voicetrek@aol.com.
2001 Results

1st

Voice Trek

2nd

Three Men and a Tenor

3rd

elmoTHUMM

Audience Favorite

Voice Trek

Best Original Arrangement

Denis Allaire, Voice Trek "Ticket To Ridel"

Best Original Song

Tom Anderson, Fifth Element "Brand New Man"
2001 Contestants in Alphabetical Order:
Delusions of Grandeur is a semi-professional a cappella group from Indiana University in Bloomington, Indiana. Since its inception in 1995, D.O.G. has competed both on the collegiate and professional level, always putting the audience above all else. D.O.G. has competed in the National Championship of Collegiate A cappella, and has hosted the semi-finals for the past two years. Delusions was named crowd favorite at the 1998 and 1999 Chicago Harmony Sweepstakes. With a repertoire ranging from N'Sync to Kenny Loggins, Delusions of Grandeur performs with a combination of comedy and musicality that will leave any audience smiling.

Who is elmoTHUMM? elmoTHUMM is a group of contemporary a cappella musicians based in Michigan. Now a quintet, including Greg Vaden, Jason Miller, Adam Westmoreland, Ed Pendleton & new-comer Paul Ellinger, elmoTHUMM is ready to take its show on the road in 2001. Perfect for school events, corporate functions, fairs, festivals, & anywhere there is a need for great a cappella entertainment, elmoTHUMM is sure to please. This will be elmoTHUMM's fourth appearance at the Chicago Harmony Sweepstakes and as always look forward to having a great time. You can reach elmoTHUMM by calling (248) 676-0886 or at contactelmothumm@aol.com.

Fifth Element is a six-man vocal band from the University of Wisconsin-Eau Claire. Since their start in 1998, 5E has performed their eclectic mix of cover tunes and award-winning original material all over the Midwest, twice advancing to the semifinals of the International Championship of Collegiate A Cappella. Their debut CD, "Plead the Fifth," was released in spring 2000. Fifth Element brings together the soaring vocal firepower of Nathan Cummings, the silky smoothness of Joe Turba, the vast stage experience of Brandon Richards, the thundering bass of Steve Clarke and Matthew Steiner, and what more than one ICCA judge has called "professional quality vocal percussion" from the vocal apparati of Tom Anderson, melding six young men into the sound, look, and feel of what some people insist on calling a "real band." More information, sound clips, lots of pretty pictures, and contact/booking information can be found on their website at http://www.5emusic.com. 5E wishes all this year's competitors the best of luck and hopes you enjoy the show!

Prime Vocal Jazz is one of the leading exponents of American vocal jazz in the Detroit area. The ensemble of three men and three women performs a wide variety of audience-pleasing music, ranging from jazz to pop/rock to classical. PRime has recorded two CDs, toured Russia, and recently performed by invitation at the North Sea Jazz Festival (Netherlands) and Montreux Jazz Festival (Switzerland). The group gigs regularly in the metro Detroit and tri-state area for private parties, concerts and festivals and conducts student workshops. Members include: Cat Hadrian (lead soprano), Ginny Lundquist (soprano II), Gwen Jacques (alto), Steve SeGraves (tenor, director), Carl Rinne (baritone), and Mike Begian (bass). Contact: Business manager Ginny Lundquist. Phone: (248) 682-6562. Email: ecl4447@aol.com Website: www.prime-vocal-jazz.com.

'Round Midnight is a five man a cappella vocal rock band from Decatur, IL. Since 'Round Midnight was established last year they have performed in various venues such as weddings and rock the vote rallies throughout Central and Southern Illinois. Recently the group has made the move from Central and Southern Illinois to Chicago, where they have performed in several inner-city and suburban High Schools. Ian, Matthew, Joshua, Jason, and Jim are very pleased and excited to be here, and they would like to thank each and every single one of you for attending tonight and hope you enjoy the show. You can contact 'Round Midnight at roundmidnightacappella@hotmail.com, or call 708-597-3643.

ROUTE 66 made its spectacular debut in 1994 in The Netherlands under the direction of Leslie Gray. This close harmony group, made up of four multi-talented women, proved to be a success in a wide variety of venues all over Europe. They have performed to a 'standing room only' audience in the 9,000 seat AHOY amphitheatre in Rotterdam as well as intimate dinner parties, trade shows and corporate events. In addition, ROUTE 66 has appeared on several popular television shows in The Netherlands, sung back-up for major Dutch pop artists and was featured as a headline act in a well-known theme park located on the German border. Here in the States, ROUTE 66 continues to please audiences, recently performing at the Hot House for Keith Uchima's CD release party; entertaining at several holiday parties including The John Buck Company, Illinois Tool Works and Best Foods; and filling the halls of the United Center with song at several Bulls games. In addition to corporate functions such as singing for Kraft Foods to launch their new Philly cream cheese snack bars, we have delighted audiences at anniversary and birthday parties and enjoyed singing outdoors this past summer in the Long Grove concert series. The versatility of ROUTE 66 allows us to offer our clients a wide range of performance options from a cappella to personalized singing greetings to a complete show with music, costumes and choreography. No matter what show ROUTE 66 is performing, we are completely self-contained, providing our own high quality sound system with cordless microphones and all appropriate costumes. For bookings or more information, please contact Leslie at Melody Musical Productions at 773-ROUTE66 (768-8366) or check out our website at www.melodymp.com

THREE MEN and a TENOR: After nearly 10 years of singing together, THREE MEN and a TENOR are riding high from a very successful season marketing their holiday CD, "You Better Watch Out!". It was produced by Paul Cooper, the founding member and lead singer of "The Nylons" from 1978-1992. Paul was almost completely out of the music business, when TMNT called him in to produce the album and make musical/staging improvements. The group, and Paul, are going back into the studio in July/August to put together a new CD, and just completed editing a video that they hope to start selling this summer. The combination is working exceptionally, and the efforts towards producing the highest quality show are paying off. TMNT continues to spend about 60% of it's time in schools/universities performing high-energy a cappella, and advising young people about what it takes to make your dreams into your career. They can be reached for performances year-round at 1-800-277-6863, or through the website at www.threemenandatenor.com.

Described by critics as "world class," Voice Trek is known for their superb vocal blend and harmonies, as well as their creative musical arrangements. Originating in 1987, this quintet is a well-respected ingredient in the Minnesota music scene and is comprised of the five original members. This "family" of singers has consistently worked with a 5-piece instrumental back up, touring, conducting jazz residencies, and presenting concerts from Minnesota to Montreux (Switzerland), and only in the past year has ventured into the exciting realm of a cappella singing. With six recordings to their credit - their repertoire ranges from jazz to semi-classical to sacred - they are currently in production of their seventh recording, an a cappella CD titled "An A Cappella Trek" to be released in Spring 2001. The five singers of Voice Trek include three sisters, Shelley, Vicki, and Rae Plaster; Music Director/Tenor-Denis Allaire (a brother-in-law); and Bass-Kevin Smith (a brother by association!) You can find them at www.voicetreksings.com, or email at voicetrek@aol.com.
The Harmony Sweepstakes National A Cappella Festival
PO Box D
San Anselmo, CA 94979
(415) 455-8602
harmony@singers.com
For More of The Primarily A Cappella On-Line Catalog . . .