---
2014 Participating Groups
Feedback is a New York City group of professional studio singers, producers, and beatboxers who have been seen and heard by millions around the world in music videos, commercials, and on the radio. Now they're bringing their talents together to create a powerhouse a cappella experience. Incorporating tight jazz harmonies and contemporary a cappella techniques, they create a unique take on popular music. They are thrilled to be performing at Harmony Sweeps 2014!


Members: Sam Nulton, Michael Gullo, Tomas Cruz, Ben Mirin, Alec Galambos, Doug Larsen

---
Loose Interpretations is a ten member all female contemporary a cappella group, who proudly call New York City home. The group was originally formed in 2006 by several women who were recent college grads who craved the fun and excitement of college a cappella. That experience inspired them to create a post-collegiate group for like minded young women...and Loose Interpretations was born. We pride ourselves on how we've grown over the years from performing in the park wherever we could find an audience, to selling out such amazing venues as Arlene's Grocery, Cafe Wha?, Crash Mansion, and even performing at the Metropolitan Opera House. Our recordings are live and unmastered, which we thinks represents us as we are. We perform everything from 80's pop, to the Beatles, to country, to rock, and have several members who use their musical talents to constantly update our repertoire with amazing original arrangements.

Members: Stacia Woodcock, Dana Kragh, Emilie Bandy, Jen Kipley, Laura Campbell, Heather Glotzer, Reynetta Sampson, Lara Paquette

---
Low Key - Built from one of the longest running all-male a cappella groups in New York City, Low Key has been rocking on its own since 2011. 2013 brought new momentum after winning third place in last year's NY Harmony Sweepstakes, and Low Key has had a steady stream of private gigs and public performances across the NY Metro area in the last year. Whether its classic doo-wop or current pop, the group loves to sing anywhere and everywhere, bringing that barrel aged, high hopped blend that gets people out of their comfort zones and into a new sonic experience.


Members: Sam Orleans, Will Moller, Adam Zamora, Ben Piper, Josh Springer, Cheiku Camara, Mike Ogurick

---
Quintessential Five was founded in autumn of 2012, in the Republic of Georgia. The idea of creating such an amazing ensemble of young singers who perform outrageously complicated arrangements with surprising ease belongs to Buka Kartozia.

The repertoire of the group mainly consists of ancient Georgian folklore and classical music with jazz. Each and every piece stands out with rhythmical difficulty and harmonic complexity. The level of stage presence and performance of the group reaches the highest levels of professionalism and leaves audiences astonished.

The Quintessential Five were winners at the Leipzig A Cappella Festival (Germany) in June 2013, And took the Second place at Internationat A Cappella Competition Graz (Austria) in July 2013. The Quintessential Five are excited to make their U.S.debut on the Harmony Sweepstakes Stage.

Members: Anna Doiashvili, Salome Dolidze, Elene Dolidze, Giorgi Toradze, Papuna Sharikadze

---
Satellite Lane is a Long Island-based a cappella group that currently belongs to the Contemporary A Cappella League. Made up of seven teachers, Satellite Lane specializes in spreading a cappella education to music programs and performing spontaneous original compositions. In March 2013, Satellite Lane competed in the New York Regional Harmony Sweepstakes, where they won "Audience Favorite," "Best Arrangement," and a special "Honorable Mention" for originality. Currently, they are working on their first studio album and several original music videos.

Members: Marc Silverberg, Alex Forte, Andrew Duca, Christine Benedetti, Mara Stomber, Melanie Malusa, Andrew Fallu

---
Stiletta - This NYC-based, all female sextet is known for combining pop leads, rich harmonies, and hip-hop dance moves. Stiletta members boast multiple off-broadway and voice-over credits, and everything from WAMMY and CARA awards, to original cast recordings for "Memphis" and "Dora the Explorer". Beatboxer, MC Beats made a show-stopping entry into the beatbox community in 2012 when she was ranked 3rd best female beatboxer in the world at the Beatbox Battle World Championship in Germany. Stiletta's director, Judy Fontana, also directs both the DC and Chicago Single Singers at the SingStrong a cappella festival. Stiletta is dynamic, high-energy, and these ladies will show you they have the moves, the grooves and even the shoes.

Members: Julie Seda, Judy Fontana, Meg Lanzarone, Haley Clair, MC Beats, Jaymee Frankel

---
Vocal Motion Six - Anyone who has not experienced the phenomenon of VMSIX (Vocal Motion Six) cannot imagine the profound effect the spirit of this group will have upon them. Nor can it be described. As they say, you have to be there! All we can do is describe their effect on others! The group is represented with one Female and Four men.

In 1999 the group was among the 537 groups nationwide who auditioned for the Namibia National Music Makers Competition. Chosen as one of the 37 finalists, they traveled 700km southwest to the capitol, Windhoek. There, in a televised broadcast, they won 2 awards for Best Vocal Group and First Place overall Artist of the Year, winning the opportunity to record their first album in 1999.
VMSIX journey is remarkable

Members: Vasco M. Mario, Jones M.Mario, Lilani Kisting, Peter M. Chizyuka, Mark M. Chizyuka

---
RSix - The majority of RSix came together while singing in Restated, a co-ed semi-professional a cappella group based in New York City. Though that is how most of the group met, they are their own powerful entity, especially with the addition of a friend and seventh beautiful voice. Comprised of versatile performers and veteran a cappella musicians, the women of RSix love bringing their talents together to make fun, dynamic music, and they hope you enjoy their soulful sound and boundless energy..


Members: Candice Leigh Helfand, Meg Tirrell, Lily Graf, Melissa Paul, Sarah Bills, Anna Concepcion, Sarah Primmer

---
Your Emcee for the Evening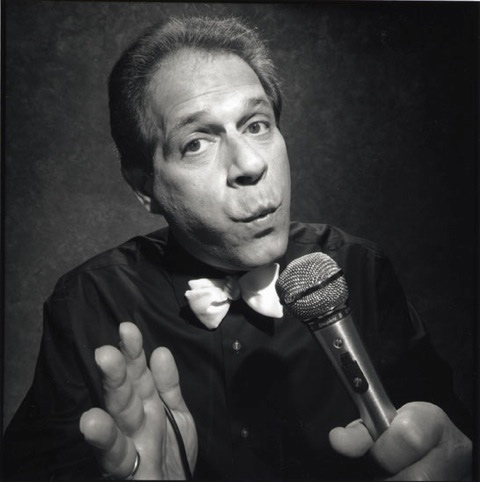 Steve "The Whistler" Herbst has been dazzling audiences with his artistic whistling for over 50 years. A remarkable three-octave range matches his enormous stylistic range, which encompasses classical music, jazz, blues, pop, and Broadway. At the 2002 International Whistlers Competition, Steve won International Grand Champion; and at the 2003, 2004, and 2005 Conventions, he was awarded the coveted title, International Whistling Entertainer of the Year (the first person ever to win 3X). In 2007, he was named to the Whistlers Hall of Fame, the highest honor a whistler can receive. These awards acknowledge not just his competitive excellence, but also his winning international acceptance for this musical art form wherever he performs.

Steve has appeared on "The Today Show", CBS-TV's "Early Show" and "Sunday Morning," plus "Good Morning America." He was also featured in and narrated the award-winning documentary film, "Pucker-Up – The Fine Art of Whistling." Other performances have included The Kennedy Center, Carnegie Hall, and Avery Fisher Hall; several appearances with the late, great Les Paul at the Iridium Jazz Club; Bird Land; The Cotton Club; and Ashford & Simpson's Sugar Bar; plus several TV commercials. His debut CD, Broadway and Beyond is in its third edition. When he's not whistling, Steve is a singing member of, and a frequent soloist with, the University Glee Club of NYC. Steve lives in NYC with his wife, Melinda where he teaches and coaches whistling for all levels of students.
---
The Judges

| | | |
| --- | --- | --- |
| | | Afterglow! - Join us after the show at The Underground NYC restaurant for drinks, food and plenty of spontaneous singing. If you have a group then come on over. Located on the edge of Columbia University at 955 West End Avenue, at West 107th & Broadway. |
---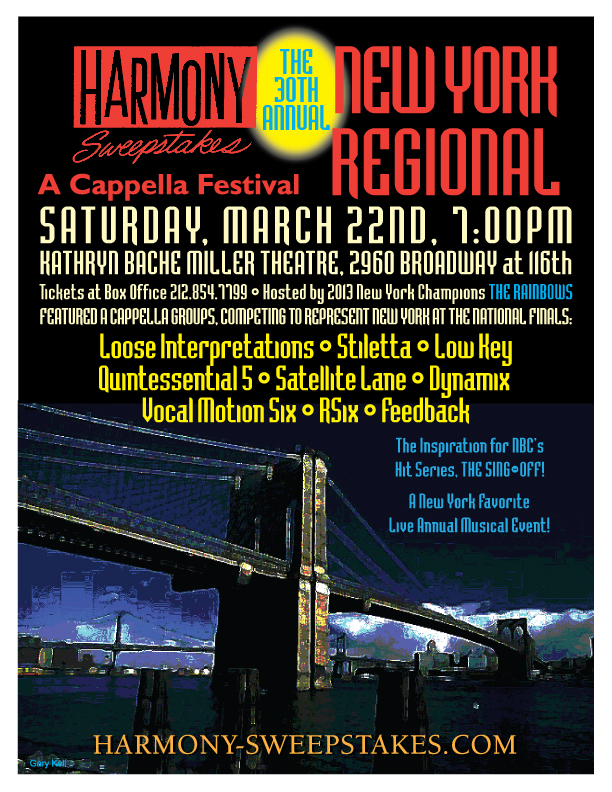 Complete list of 2014 national participants
---
Keep in touch with the New York a cappella scene! Subscribe to this regional resource for a cappella fans and groups.
Stay informed about upcoming shows and auditions, find a new member for your group or just keep up with the local a cappella news.
---
---
Interested in Competing?
We are always seeking groups who would like to compete in our events.
Groups of any style are welcome, but you must have between 3 and 8 members. We have a rule book which explains many of the details of the event, which you can see by clicking here. All groups must audition in order to compete. Generally this is done by sending a current tape and photo, although live auditions are sometimes arranged. The purpose of the audition is to make sure the group is appropriate for the Festival and to help the Director determine the performance order. If a group has competed previously, the audition process may be waived.

How to enter


Please send tapes and photos to the regional director:-

Colette Thompson has directed or performed in over eleven vocal ensembles, with her group, Stay Tuned, placing 3rd in the 1998 New York Regional of the Harmony Sweepstakes; Colette has performed/recorded with Lukas Foss, Leonard Bernstein, Jesse Norman, Peter, Paul & Mary, and James Levine A billboard-ranked singer/songwriter, she has also managed several events, including, Christmas at NYU, Complex at the Duplex, and An Evening with The Real Group at NYC's Symphony Space. With performances televised via major news programs including Good Morning America, The Today Show, CNN, and NY1, she is a promoter, producer, adjudicator and an ambassador of vocal music worldwide.

Thompson Consulting
128 Fort Greene Place, Suite 1B
Brooklyn, NY 11217
917-442-2011
newyork (at) harmony-sweepstakes.com

The Harmony Sweepstakes A Cappella Festival
PO Box D
San Anselmo, CA 94979
(415) 455-8602
festival (at) harmony-sweepstakes

---
Prizes

Regional winners win roundtrip airfare plus two nights accommodation in the San Francisco Bay Area to compete in the Harmony Sweepstakes National A Cappella Festival

A selection of compact discs from the Primarily A Cappella catalog

A $250 coupon from Discmakers
---
Complete List of New York Champions
Miller Theatre at Columbia University is a performing arts producer dedicated to developing and presenting new work from world-class artists. Acclaimed for its innovative programming, Miller Theatre provides an intimate exploration of the creative process and a look into the personalities and emerging trends in contemporary classical music, opera, dance, and film. Its adventuresome performances and elevation of advanced ideas have established Miller Theatre as a nationally recognized cultural center for artistic discovery.

Established in 1988 with funding from the Kathryn Bache Miller Fund, Brooke Astor, and John Goelet, Miller Theatre is located on the Columbia University campus in New York City. Yahoo map - Google map - Directions
---
Home | Boston | Chicago | Denver | Los Angeles | New York | Pacific North West | San Francisco | Washington DC

---

Read the latest reviews, articles, features and more - A CAPPELLA NEWS SEARCH OUR DATA BASE OF THOUSANDS OF A CAPPELLA RECORDINGS

To find a specific song on any recording (or to find recordings by group name or CD title),
pick the search method and type the item you are searching for here: