16th Annual

The Harmony Sweepstakes A Cappella Festival, the premier American showcase for vocal harmony music, celebrates its 16th year in 2000. The annual national competition draws from hundreds of vocal groups from around the country with regional competitions in eight cities. The winning group from each festival is flown to perform in front of celebrity judges and a sold out house of enthusiastic a cappella fans at the National Finals.
1999 Pacific NW champions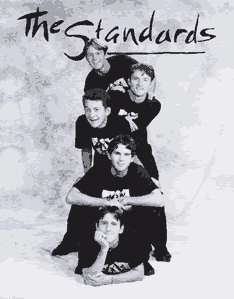 The Standards
The Standards are five Williams brothers from Twin Falls, Idaho singing R&B, Doo-wop, 50's-60's jazz, and their original material. They have been singing together as a group since 1994. Jordon is known for his rich tenor voice and extraordinary range. One of his passions is motor cycles and he owns a Harley Davidson, which he built from scratch. Morgan writes most of the original music and creates the artwork for the group, including album designs and promotional material. Nicholas is The Standards' bass. He is the "comedy of the group," known for his sense of humor. He is guaranteed to touch the lighter side of the audience. Nathan adds character to the performances with his distinctive voice and original choreography. His dream is to dance professionally in a major Broadway musical. Quinn gives strength to The Standards with his dynamic vocal quality and personal enthusiasm. His interests include roller-blading, snow-boarding, and bothering Morgan if he has nothing else to do in the day. All five brothers are eagle scouts and range in age from 24 to 17.
2000 Pacific NW Regionals
Saturday,March 25th 7.30PM
WASHINGTON CENTER FOR THE PERFORMING ARTS
512 Washington St SE, Olympia, WA 98501
Tickets are $15 - reserved seating. Available from the box office 360-753-8586. Directions
1999 Results

1st Place
The Standards
2nd Place
Akafellas
3rd Place
Special Feature
Best Original Arrangement
"The Scotssman"
Akafellas
Audience Favorite
The Standards
This Years Contestants in Alphabetical Order
5-Track was born out of an arranging and recording project that Jan and Martin put together. A constant lure for the two, they managed to pursue a cappella singing and arranging in forming an increasingly permanent group. Rehearsing together Since September '99 on evenings and weekends, the current groups plans include a tour of Japan in July.
Acapella-Go! Is composed of three exceptional women with extensive and varied performance backgrounds; ranging from nightclub singing, musical theatre, classical ballet, to jazz dance, grand opera, and sympho ny orchestra. They have joined forces to create an eclectic and exciting performance experience in the tradition of the great girl groups of the past; such as the Boswells, Dinnings, Maguire and Andrews Sisters.
Impromp2 does not limit their music to any style or form. Jazz, Funk, Pop, the idea is to stretch the limits of A Cappella and with smooth p recision, bring our message that any instrument can be created with the natural voice. Impromp2 is Five part and based from Lynnwood, Washington.
Me And The Boys have dazzled audiences for eight years with their style, creativity and showmanship becoming one of the very few performing "quote a cappella" groups in the Greater Vancouver area. With only high school bathroom furnishings as their initial audience, Me and The Boys have taken their sound out of the stalls and on to the stage.
SoundDesign met and sang together for the first time in late September 1998 but didn't start rehearsing regularly until November. Since that time, they have sung for several private parties and other special events. Each is a member of the Pacific Sound Chorus in Bellevue, Washington and each has years of experience singing in quartets. This is the first time, however, for this particular foursome to be singing together.
Special Feature has been harmonizing across North America for more than ten years. Their u nique brand of high energy a cappella has been applied to classics from the 50's and 60's as as well as original songs written by the group.
The Standards are five brothers from Twin Falls, Idaho and have performed for schools, colleges and community concerts throughout the Northwest. They have been selected for the Utah Performing Arts Tour for 1999-2000. The group will open for All 4 One in Butte and Greate Falls, Montana and have been the featured performers at numerous festivals including the Boise River Fest which draws an estimated 200,000 people annually. In addition The Standards have toured with Milton Creagh's internationally known drug awareness program. All five brothers are eagle scouts.
VOCE - Their voices, along with their undeniable passion for music, bring lush harmonies and innovative arrangements to life. In 1998 VOCE won several awards at Northern Harmony 1998 ( a Canadian a cappella competition). VOCE has one CD, the A Cappella Recording Award-nominated 'So Many Ways'.
1999 Judges
Mark Anton
Fresh off the road from a U.S. Tour with the Harry James Orchestra, Mark has been performing professionally for over twenty years. In addition to performing his one man show (Born Singin) in venues across the country, he is the lead tenor with the Lancers. He has been lead tenor with the Tommy Dorsey Orchestra vocal group, the Pied Pipers, and with the Norman Luboff Choir. Mark has performed with the Roger Wagner Chorale, George Burns, Cyd Harisse, Tony Martin, Helen Forrest, Connie Haines, Helen O'Connell, Andy Russel, and the big bands of Ray Anthony, Les Brown, Jimmy Dorsey, and Billy May. Mark is also the owner and teacher of the Mark Anton Vocal Arts Studio in Olympia, Washington.
Tom Iovanne
Tom Iovanne has been the Executive Director and artistic director of the Washington Center for the Performing Arts in Olympia, Washington since 1989. He came to the Washington Center from New England, where he had been the Director of the Arts Center on Brickyard Pond at Keene State College and Events Manager at the Hopkins Center at Dartmouth College. He has chaired both the Green Mountain Consortium and the Pacific Northwest Arts Presenters, has been a site visitor for the National Endowment for the Arts and the New England Foundation for the Arts, and was a summer institute faculty member at Jacob's Pillow Dance Festival. He is currently on the Executive Committee of the Board of the Western Arts Alliance, and has served on the Board of the Washington State Arts Alliance, chaired the 1994 Northwest Booking Conference, and been a peer panelist for funding programs at the National Endowment for the Arts, the New England Foundation for the Arts Dance on Tour program, the Western States Arts Federation, and for several western states. In addition, he has consulted on the development of new presenting facilities.
Stephanie Claire
Stephanie Claire has been an active participant in Olympia's music scene for almost twenty years. She has been a performer, teacher, music director, and accompanist for the community as well as the public school system and The Evergreen State College. The a cappella fever hit early for Stephanie; her Uncle Wes sang barbershop to her as a child. Later she sang doo-wop with the Chromatic Connection. Currently Stephanie is an employee of the State of Washington, a massage therapist, and teaches chorus and voice at The Evergreen State College.
Gary David Riley
Gary David Riley has been involved with Masterworks Choral Ensemble since its inception in 1981 and is currently Artistic Director and Conductor. He has also directed choirs for The evergreen State College and South Puget Sound Community College, played keyboard for a vocal jazz group, and been music director for churches of various denominations. He has a BA in music and a MA in Educational Technology. Mr. Riley is a music eduacator with Griffin School District, where he has been employed since 1979. Mr. Riley is also a composer and arranger. His works have been performed by Masterworks Choral Ensemble, local church choirs, and various South Sound schools.
Marla Beth Elliot
Marla Beth Elliot has been a professional singer and songwriter with The Righteous Mothers, winners of the 1998 regional Harmony Sweepstakes award for original song, since 1981. She has taught voice in the Olympia area for both speech and singing since 1983. She is currently a member of the faculty at The Evergreen State College. She holds a Master of Fine Arts degree from the University of Washington.
Prizes
Winner represents the Pacific NW in the Harmony Sweepstakes National A Cappella Festival
A set of Shure SM 58 microphones
A selection of compact discs from the Primarily A Cappella catalog
Free cassette tape duplication by Discmakers
PREVIOUS PACIFIC NW WINNERS

1998
Heebee-jeebees
1997
Kickshaw
1996
M-PACT
1994
Trenchcoats
Interested in Competing?
We are always seeking groups who would like to compete in our events.
Groups of any style are welcome, but you must have between 3 and 7 members. We have a rule book which explains many of the details of the event, which you can see by clicking here. All groups must audition in order to compete. Generally this is done by sending a current tape and photo, although live auditions are sometimes arranged. The purpose of the audition is to make sure the group is appropriate for the Festival and to help the Director determine the performance order. If a group has competed previously, the audition process may be waived. Please send tapes and photos to the regional director :
David Metzler a songwriter and singer, produces the Northwest Regional Harmony Sweepstakes with the sponsorship and support of Masterworks Chorale Ensemble (MCE). MCE is a Southwestern Washington community chorus dedicated to performance, community service, music education and leadership in the arts. Our mission is to perform sacred and secular choral, orchestral and newly commissioned works; to participate in community service activities and to provide a leadership role in developing, sponsoring and broadening the vocal arts.

6714 Husky Way

Olympia, WA 98503

(360)412-0868

metzler@olywa.net
The Harmony Sweepstakes National A Cappella Festival
PO Box D
San Anselmo, CA 94979
(415) 455-8602
harmony@singers.com
From Interstate 5 (I-5), take exit # 105A. Follow the signs for State Capitol.
At the end of the off-ramp continue through the underpass.
Turn Right at the next light (Capital Way)
Turn Right on Legion Way (approximately 8 blocks)
Turn Left on Wastingon St (one block)
Yahoo map to Washington Center For The Performing Arts
Festival Background - Year 2000 schedule - Recordings - 1999 Results - Rules - How to enter
Boston - Chicago - Denver - Los Angeles - New York - Pacific North West - San Francisco - Washington DC
For More of The Primarily A Cappella On-Line Catalog . . .