21st Annual


2005 Chicago Champions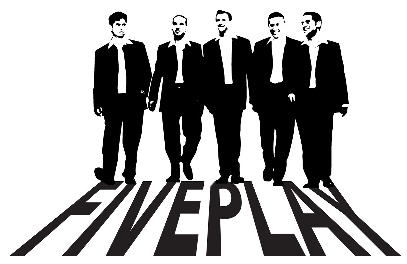 Fiveplay, Chicago's 2005 Harmony Sweepstakes Champions, is not your typical vocal group. In a world where musical trends change on a weekly basis, Fiveplay's style is timeless and enduring. With fresh interpretations of the standards of yesterday, classic arrangements of the hits of today and their own critically-acclaimed original compositions, Fiveplay demonstrates stunning versatility and razor-sharp precision with every song. Their diverse repertoire is virtually a 20th century songbook, covering everything from Sinatra to The Temptations to the Beatles and U2. More than simply a musical showcase, Fiveplay's refined choreography and unique brand of humor will entertain audiences of all ages.
Members: Aaron Siedband, Brian Siedband, David Reeder, Dave Wagner, Cody Whitlock

Alchemy started out their public performances as West Towns Sound and early on made an appearance on the "Bozo Super Sunday Show". They have become an increasingly popular and in-demand performance quartet with an amazing repertoire. They came on the scene after the 2000 Illinois District Fall Contest, and quickly began to make their presence felt not only in the Illinois District, but also on the International level. In the Illinois District Spring, 2001 competition, they finished well enough to be invited to the Buckeye Invitational. At this "International A Cappella Extravaganza," in August of 2001, they finished third in the men's quartet competition. Then in the Fall 2003, after 2 years of Illinois District 3rd place finishes, they finally won the Illinois District Championship! But success doesn't stop there! In the Spring of 2004 they qualified for the 2004 International Barbershop Competition and were the sole representative from the Illinois District! They placed 21st in that contest and are now moving their way up towards the Gold.

Members: Ken Gillie, George Sotos, Rick Anthoney and Mark Keever

Fiveplay is soon to be Chicago's hottest vocal group. Combining popular covers, originals, and choral arrangements, Fiveplay's sound runs the gamut of pop, rock, jazz, funk, soul and doo-wop. With their tight harmonies, intricate arrangements, and dynamic solos, you won't believe that the group Fiveplay was born just at the beginning of this year. Individually, these five accomplished singers have entertained audiences from the International House of Pancakes to the Chicago House of Blues, from Lincoln, Nebraska to the Lincoln Center, from the Local 112 to the President of the United States. Together, they create a wall of sound unparalleled in precision and quality. Get ready for Fiveplay!

Members: Aaron Siedband, Brian Siedband, David Reeder, Dave Wagner, David Wilner

Four Bettys is an a cappella quartet singing a wide variety of music for any occasion! With a combined 40+ years singing and numerous national and international awards, they share a passion for performing. In October 2004, Four Bettys captured seventh-place in the world at the Sweet Adelines International Competition in Indianapolis, IN. This was the Betty's first trip to international competition, and they were quite pleased to reach the prestigious top ten on their first try. Four Bettys loves an audience, and can accommodate a variety of performance situations including concerts, barbershop chapter shows, special events, serenades, or even drive-by singings. The Bettys have been spotted performing for corporate events, private parties, on Barbershop Shows and singing the National Anthem at a few Cubs games!

Members: Joan Boutilier, Lynda Keever, Cori Albrecht, Heather Mears

Local Vocal is a dynamic vocal ensemble of individuals who each have an extensive musical background and somewhat eclectic musical taste. The result is an a cappella group performing jazz, doo-wop, and popular standards in unique arrangements which highlight the group's tight harmonies, toe-tapping rhythms, and smooth vocal blend. Founded in 2001, Local Vocal made its debut appearance as special guest artists at the Lewis University Vocal Jazz Ensemble Concert in May 2002. They have performed at various public and private events throughout the Chicagoland area, including political fundraising events and the inaugural convention of DuPage United. For booking information, please contact Vicki Linich at vlinichb@sbcglobal.net

Members: Dennis Treadwell, Patti Madison, Karen Krueger, Rex Wilkinson, Vicki Bryant, Gwen Holst, Bob Holst

An Octave Above: is eight professional vocalists who blend years of experience and a love of a cappella harmony to every style of music they sing. From doo-wop to jazz, standards to madrigals, Bacharach to The Beatles, An Octave Above creates a new standard for excellence on the Chicago music scene. The Chicago Symphony Chorus claims five of the members and the St. Charles Singers claims two; they've earned degrees in music and vocal performance from Elmhurst College, Northwestern University, Northern Illinois University, Bradley University, and the State University of New York (SUNY). For a vocal group that has only been together three years, An Octave Above has quickly established themselves as one of the hottest new a cappella vocal groups in Chicago. In 2003 and 2004, they were the featured performers with the Elgin Symphony Orchestra for their annual "Holiday Spectacular" concert. They have opened for award winning jazz vocalist Dee Dee Bridgewater at the Elmhurst Jazz Festival, sang the National Anthem for the Chicago White Sox game at U.S. Cellular Field and at the United Center for the Chicago Bulls game. They have been featured at performance venues including Fitzgerald's, the Schaumburg Prairie Center for the Arts, Townhouse Books in St. Charles and have also held private performances at Molly Malone's Irish Pub and Skelly & Skelly's in Forest Park, The Galleria Marchetti in Chicago and Orchestra Hall. Inspired by The Real Group, The Swingle Singers, Manhattan Transfer and The New York Voices. An Octave Above is versatile, eclectic and always wonderful. Listen once and you'll be transposed… An Octave Above!!

Members: Meredith Morris, Melinda Voss, Deb Wilder, Nick Falco, Drew Dahan, Rob McNeill, Kris Monn

Straight No Chaser, Indiana University's premiere men's a cappella group, was founded in 1996. In the group's 6 years together, SNC has released five albums and performed in over 2,000 shows. SNC has had the privilege to open for the Temptations, sing the National Anthem at the internationally televised 2001 Brickyard 400, Chicago Cubs and White Sox games, as well as many IU sporting events. Sponsored by the IU Alumni Association, SNC has enjoyed traveling across the nation to sing for alumni groups and IU-related events. SNC has won many awards, including Best Male Collegiate Album, as well as 2nd place in 1998's NCCA's at Carnegie Hall, and Runner-Up at the 2002 Harmony Sweepstakes Midwest Regional in Chicago. Recently, SNC was named the Midwest Champion and will move on to the Finals at the Lincoln Center in the International Championship of Collegiate A Cappella. SNC's albums, including its most recent, "Thank You," can be purchased via the group's website, www.sncproductions.com .

Members: Adam Basey, Sargon Isho, Jeff Tanski, Chris Ryan, Steve Wolf, Adam Stulberg, Corey Frye, Adam Rich, Tyler Trepp, Mark Crowder, Indiana, Andrew Landau

Stripped Strip away the labels, limits, and boundaries and you have an exciting adventure in vocal music. Tonight you1ll hear five award winning vocalists, each bringing a unique style and flair to this cutting edge vocal band. The members of STRIPPED have formed a strong musical bond that gives their sound an unmistakable warmth. They have tremendous freedom to express themselves as outstanding soloists and together they form a whole more powerful than the sum of its parts. They inspire, educate, and often amuse, while also encouraging the listener to sing along. In addition to performing, the members of STRIPPED have founded Breaking Boundaries Inc., a non-profit organization dedicated to helping people find ways to creatively express themselves. Each member brings to the table their years of international performing experience, music education, and spiritual motivation. Through community outreach, clinics, masterclasses, and multimedia workshops, they teach people how to connect with others in new and exciting ways. Our hope is to show each person the joy that comes from finding and following their own inner voice. So open up your ears and prepare to be STRIPPED!

Members: Mariama Torruella, Gayle Bisesi, Leslie Beukelman, Sean Archer

Vocal Chaos is an all-male a cappella band performing classic rock and popular music from the past four decades, including hits ranging from the Jackson 5 and the Rolling Stones to MatchBox 20 and the Dave Matthews Band, and everything in between. Founded in 1996, this semi-pro group (consisting of consultants, actors, programmers, marketers, teachers, service reps, and map-makers by day) performs throughout the Chicagoland area at corporate events, charity functions, and a host of other public venues. These guys live to sing the songs you know and love in a way you've never heard them before!

Members: Anthony Roberts, Jeff Swearingen, Karl Solis, Drew Dahan, Jim Pretkelis, Jason VanCauwenberge, Paul Peterson, Tim Gallagher, Jordan Stoner
2005 Judges: (more to come)
Jay Giallombardo: Jay began his interest in a cappella singing at the young age of 8 where he learned part singing with church hymns. In junior high school, Jay's interest spread to guitar and the harmonies of folk music duos and trios. At New Trier High School, his interest in music expanded further, where he sang in the choral groups and musicals, began a barbershop quartet, and studied music theory. Jay started arranging about age 15. He wrote choral pieces, arranged dozens of quartet songs, and even arranged a few "big band" pieces for the New Trier Jazz Band. Jay went on to study music at Bradley University and finished his Music Education Degree at Boston University. Jay also completed his Masters in Music Composition and Theory at Northwestern and taught high school choral music before pursuing a variety of activities in the "Barbershop World" with an actively performing quartet, chorus directing, arranging and coaching. Jay sang baritone in "Grandma's Boys"; they recorded three albums, performed across the US and Canada, and won the International Quartet Championship in 1979. Jay became a founding member and musical director of the New Tradition Barbershop Chorus in 1981. The New Tradition, under Jay's direction, was a medalist chorus (top 5) through the 90's, culminating in a gold medal championship in 2001. Jay is one of very few (about 4) Society members that have achieved a gold medal with a quartet and as a chorus director. Jay became a Music Judge for the Society in 1994. Jay currently is a professional computer consultant specializing in custom database applications. He and his wife Helen own and operate GSB Medal Music, Inc which provides Jay's a cappella arrangements to performing groups worldwide. Jay currently has been arranging pieces for chorus and orchestra. His Patriotic Medley and Festive Christmas Medley has been performed by the Lake Forest, San Diego, and Glenview Symphony orchestras. Jay, Helen and their 3 children (actually young adults), Barbara, Joe, and Anna reside in Glenview.

Daniel Gregerman: Daniel Gregerman began teaching at Niles North High School in 1991. He directs five concert choirs, the advanced vocal jazz ensemble, "Take One", and teaches Music Theory. Prior to this he was Choral Director and Assistant Band Director for the McHenry Community High Schools in Illinois. Mr. Gregerman has directed the Midwest GRAMMY® High School Jazz Choir for the NARAS, Inc., and the Illinois Music Educators Association District VIII & II Jazz Choirs. He is currently the Vocal Jazz Chairman of the Curriculum Council for IAJE, the IMEA District VII Vocal Jazz Chairman. He has also been the IMEA State Vocal Jazz Chairman. Active in local community theatre, he has acted as Choral Director and has performed for summer productions in Theatre 219. Daniel has also sung professionally in the Chicago area. He has taught at Vandercook College of Music in their Summer Masters Degree Program, as well as various summer music camps. He has adjudicated contests and has worked as a guest clinician in several states. Mr. Gregerman has a Bachelor of Music Education degree from Northwestern University in Evanston, Illinois and a Master of Music Degree from Western Michigan University in Kalamazoo, Michigan where he sang with the internationally acclaimed vocal jazz ensemble Gold Company. In addition to teaching Mr. Gregerman is actively involved in summer sports leagues and year round weight training. He resides in Glenview, Illinois with his wife, Sandra, and their nine-month-old daughter, Samantha.

Becca Kaufman: Becca, a native New Yorker, moved to Chicago to attend Northwestern University. For five years she co-hosted the radio show "I Do, I Do," a wedding/relationship program broadcast on 105.9FM, WCKG. Considered a "wedding expert", she has been on TV locally (NBC, FOX, CLTV,WGN) and around the country, as well as in newspapers, magazines and books (including The Chicago Tribune, In Style and Chicken Soup for the Bride's Soul), giving advice to brides and grooms. Her advice can now be found at WeddingQuestions.com. She is an accomplished studio singer and voice-over talent; you've heard Becca proclaiming the delights of Coke, Diet Coke, Bally's, Buick and many others. Her character voices can be heard on many games and toys, including the smash CD-ROM series "You Don't Know Jack". In fact, she was featured on WGN-TV as "Chicago's Very Own" because of her vocal gymnastics. She is the Executive Producer and Founder of Singer Spotlight Productions (www.singerspotlight.com <http://www.singerspotlight.com/> ), offering singers of all experience levels performing opportunities and educational experiences around Chicagoland. Becca was the Executive Producer of Music for the Heart, a collection of 23 original children's songs, benefiting The Children's Heart Foundation, released throughout the Midwest in April 2002 (it made it to the final round of Grammy considerations for Best Children's Album!). No stranger to legitimate stages, Becca has been privileged to perform alongside the likes of Lily Tomlin, Brooke Shields, Phoebe Snow, Tony Roberts, and Ellen Burstyn, as well as appearing in the long-running hit School House Rock Live! Some of her favorite gigs have been singing the National Anthem for the world champion Chicago Bulls and her forever-losing New York Knicks. After singing and leading various wedding orchestras, she has been performing exclusively with The Ralph Wilder Orchestra for the last three years. And of course, her greatest productions are her two children with husband, acclaimed Chef Peter Schonman - Gabriel who is 5 and Brooke who is 7 months.

Darren Stephens: If Darren Stephens had been a twin, he would have been born singing harmony! As it is, he has been performing in harmony groups all his life. For five years in the late 80's, he made his living as a member of The Four Guys Standing Around Singing, an a cappella music and comedy act. When they weren't performing in Chicago, The Four Guys appeared at hundreds of colleges and universities around the country, and were chosen as the National Association of College Activities Performer Of The Year. They also starred in national television and radio commercials for McDonald's, regional ads for Pepsi and the Sun-Times, and did tons of corporate shows and state fairs. In the Four Guys' heyday the comedy club boom was at its height, and the group was a featured act at every Catch A Rising Star comedy club in the country including New York, Chicago and Las Vegas, opening for comedians such as Janeane Garofalo and Jerry Seinfeld. Darren sang bass for the group Relative Obscurity for three years (ever heard of 'em?) and is currently performing comedy in bluegrass three-part harmony with an 'O Brother Where Art Thou'-style act called The Famous Brothers (www.famousbrothers.com <http://www.famousbrothers.com/> ). Alongside his singing group activity, Darren has performed around Chicago as a theater actor and improv comedian, and has made his living as a voiceover actor for hundreds of radio and television commercials. Darren's B.F.A. in Speech and Theatre is from Kent State, and he has an M.F.A. in Acting from Ohio University.

JACQUELINE KRUPKA marks her second year in 2005 as judge for the Harmony Sweepstakes. She began her vocal ensemble career as a member of the DEL FRIDGIDAIRES mixed doo-wop group and the female rock duo SCRATCH 'N' SNIFF. More recently she has enjoyed trade shows with THE SUITS, holidays with THE MERRY MASKERS, and a stint as Mrs. O'Leary with the Navy Pier Players vocal octet. As President of Atomic Productions, she founded and directs THE TURN OF THE CENTURY SATB chorale and THE VICTORIAN YULETIDE ENSEMBLE. Ms. Krupka is a trained singer and guitarist, and her "lilting soprano" and "superb
musicianship" were hailed by the critics for her role as Brendan Behan's musical muse in THE IRISH RASCAL at Milwaukee Repertory Theatre. Back in Chicago, she received the Joseph Jefferson Citation for Outstanding Original Music for JUNGLE BOOK, and has scored such classics as JAMES AND THE GIANT PEACH and THE RESCUERS for Lifeline Theatre, LOVE'S LABOUR'S LOST for Equity Library Theatre, and MRS. CONEY for Bailiwick Repertory. Currently Ms. Krupka can be heard across the country with THE PLUNGING NECKLINES duo, A MIGHTY FYNE PAIRE Irish Cabaret, and the female vocal trio JOIE DE DIVA.
---