16th Annual


The Harmony Sweepstakes A Cappella Festival, the premier American showcase for vocal harmony music, celebrates its 16th year in 2000. The annual national competition draws from hundreds of vocal groups from around the country with regional competitions in eight cities. The winning group from each festival is flown to perform in front of celebrity judges and a sold out house of enthusiastic a cappella fans at the National Finals.
1999 Chicago Champions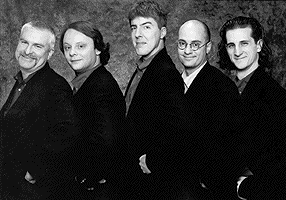 Chicago Voice Exchange
Chicago Voice Exchange have been entertaining and confusing audiences for over 8 years-- from corporate to school events, from low brow to high (and even uni-), their insouciance and self-deprecating humor leaves a trail of smiles and broken dishes wherever they go. Winners of the 1995 and 1997 Midwest Harmony Sweepstakes, they just missed a bronze in Synchronized Swimming at the last Summer Olympics. CVX is Andrew Blendermann, Joe Dennis, Tim Eaton, John Milne and the ubiquitous Bryan Chadima.
1999 Results

1st

Chicago Voice Exchange

2nd

Blue Skies

3rd

Delusions Of Grandeur

Audience Favorite

Delusions Of Grandeur

Best Original Song

Chicago Voice Exchange "So Far"

Best Original Arrangement

Blue Skies "Scan It"
Festival Background - Year 2000 schedule - Recordings - 1999 Results - Rules - How to enter
Boston - Chicago - Denver - Los Angeles - New York - Pacific North West - San Francisco - Washington DC
For More of The Primarily A Cappella On-Line Catalog . . .