21st Annual



2005 Champions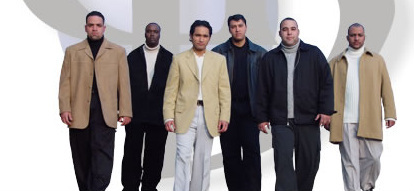 Undivided
is an outstanding a cappella male sextet formed in the spring of 2001. With a wide range of musical influences such as Latin, Gospel, Contemporary Christian, Reggae, Pop, Jazz, R&B, and Rock, they have created a distinctive style of their own. They are well respected for their tight harmony, amazing blend, original compositions, and arrangements. Undivided seeks to re-invent a cappella music by creating innovative arrangements and positive music for today's youth.
Members - Gregory Gordon (tenor); Ruben Aponte (tenor), David Cortes (tenor); Jose Rodriguez (tenor); Richard Aponte (baritone); Melvinsky Ramirez (bass); Aldino Parchment (Rapper)
2005 Participating Groups
Down 4 The Count - Young & unencumbered, the members of Down 4 The Count spend their days learning about music and their evenings loving it. Their passion for vocal jazz is communicated in their complex arrangements and original lyrics. Ranging in age from 19 to 33, these musicians' backgrounds vary widely, from professional bag-piping, barbershop, musical theatre, Brazilian jazz, R & B and Renaissance chamber music. Future plans for this ambitious group include recording an album and going on a European tour. !
Members - Colleen Keene, Francesca Delfin, Genevieve Artadi, Lisa Dunn, James Adams and Matt Reynolds.
CRESCENDO - proves that the United States is a land of opportunity for people from all around the globe. Composed of five members from very different ethnic backgrounds, this ensemble introduces a new twist to the genre (which they refer to as "popjazz") by incorporating the polish and discipline of classical music, the accessibility of pop, and the improvisations of jazz into a cool, lush, and sophisticated sound that has earned them numerous honors, including the championship prize in the Crystal Palace Casino International Talent Search Contest (1999), the Virgo Award for Best Musical Group (2000), and the Celebrity Chronicle's Best Musical Artist Award (2001).
Members - Charmaine Clamor (alto); Grace Lieman (1st soprano); Amanda Martindale (2nd soprano); Michael Konik (tenor); Bobbie Garcia (bass/baritone)
moosebutter - The first thing you should know about this group is that if you mention swimsuit models, they break out in hives. Big, nasty, professional-wrestler-sized hives. Next, one of them has a nervous tic, where if your name is Bernice, he'll try to pick your nose. Lastly, whoever owns the lime green 2001 Lexus with California vanity plate that reads "tanman," you should immediately return to your vehicle, because the entire Green Bay Packers football team is waiting there to present you with flowers..
Members: Tim Y. Jones; Glen Sawyer; Weston Wride; Chris Harris
OnCue - a division of the Youth Singers of Calgary, is one of Canada's premier a cappella ensembles, and was launched in 1996. Youth Singers is a 500-member choral organization that offers a comprehensive training program for young people in choral singing, dance, and drama. OnCue is a flagship for the Youth Singers program, incorporating harmony and showmanship in each dynamic performance.
Members - Jennifer Andersen (soprano); Lisa Ryan (soprano); Caroline Delaney (mezzo-soprano); Beth McLean Wiest (alto); Krista Strome (alto); Oliver Ho (tenor); Chris Thompson (tenor); John Edmonds (bass); Reid McLean Wiest (bass, Director) – (only seven will perform during any given song)
Pacific Swingline - The sophistication of swing, the energy of jazz, the warmth of the human voice...this is Pacific Swingline - five voices with extensive backgrounds in the recording studios and on the stages of Southern California. Voices that can be heard on the soundtracks of films and television shows. Five voices singing unaccompanied, immersing the finest musical literature of the 20's, 30's, 40's and 50's in intricate vocal arrangements that bring the soul of the music to the surface.
Members - Cindy O'Connor (soprano 1); Kim Switzer (soprano 2); Marta Weiskopf (alto); Perry Schjolin (tenor); Jim Raycroft (bass)
Swing Shift - This stylish SSATB vocal jazz quintet was formed in Santa Monica in 2002. Swing Shift has performed at private parties, churches, and appeared as one of the featured a cappella groups on KLCS's television series "Mosaic." They specialize in jazz standards from the 30's on, with special attention to the richly harmonic songs of the stage and screen hits of the era. Their 2005 LA Regional Harmony Sweepstakes appearance will feature songs selected from the best of Broadway and Hollywood composers. Spirited songs and dazzling harmonies await you.
Members - Richard Gilinsky, Solomon Katz, Fletcher Sheridan, Lisa Dunn, Colleen Keene.
Undivided - is an outstanding a cappella male sextet formed in the spring of 2001. With a wide range of musical influences such as Latin, Gospel, Contemporary Christian, Reggae, Pop, Jazz, R&B, and Rock, they have created a distinctive style of their own. They are well respected for their tight harmony, amazing blend, original compositions, and arrangements. Undivided seeks to re-invent a cappella music by creating innovative arrangements and positive music for today's youth.
Members - Gregory Gordon (tenor); Ruben Aponte (tenor), David Cortes (tenor); Jose Rodriguez (tenor); Richard Aponte (baritone); Melvinsky Ramirez (bass); Aldino Parchment (Rapper)
VYBRATION - Made up of six excellent vocalists from every musical background (rock, pop, classical, opera, etc.), VYBRATION combines the strengths and diversity of all to form a brand new sound- brought together by earth-rumbling vocal bass and frighteningly real, drum-kit-sounding vocal percussion. Originally brought together by the vocal band "Groove 66" at Disney's California Adventure (where they enjoyed a two and a half year run as the most popular live entertainment attraction in the park), VYBRATION has expanded its repertoire and become more accessible to audiences everywhere without dropping one beat from the excitement and entertainment-value they showcased while working for "the Mouse".
Members: Heather McMasters (soprano); Laura Dickinson (mezzo); Tomasina Abate (alto); Terron Brooks (tenor); Michael Washington (bass); Bryan Chadima (vocal percussion)

Judges
The Alley Cats - are a perfect blend of musical talent and comic timing. Their interaction with audiences combined with their spontaneous humor makes each show refreshing and exciting. Royce, Juan, Mando, and Sean never miss a beat as they bring their own contemporary style to the great songs of the 50s and 60s. Together, their freshness and talent make them truly the Cat's meow!
Members: Sean Devine; Juan Del Castillo; Mando Fonseca; Royce Reynolds
---
Boston - Chicago - Denver - Los Angeles - New York - Pacific North West - San Francisco - Washington DC