25th Annual
The Harmony Sweepstakes A Cappella Festival, the premier American showcase for vocal harmony music. The annual national competition draws from hundreds of vocal groups from around the country with regional competitions in eight cities. The winning group from each festival is flown to perform in front of celebrity judges and a sold out house of enthusiastic a cappella fans at the National Finals.
2009 Rocky Mountain Champions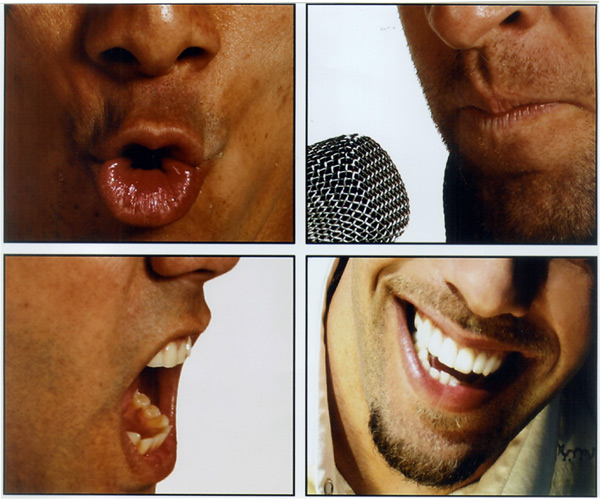 No words, just rhythms, sound effects, and vocal percussion. MouthBeats explores the sonic barriers between vocal and instrumental music. Fusing pop, rock, jazz, world, and military styles, MouthBeats is on a never ending hunt for new beats, new sounds, new grooves.
2009 Results

1st

Mouth Beats

2nd

Home Free

Audience Favorite

Home Free

Best Original Arrangement

"Stronger Bad" Arr. Matt Murphy - Mouth Beats

Jeffery Harris Award Best Original Song

"Street Beat #2" Tim Jones - Mouth Beats

Jerry Lawson Award for Best Soloist

Kai Robinson for "I Will Survive" - Wonder Voice

Wes Carroll award for Best Vocal Percussion

Adam Rupp for "Wipe Out" - Home Free

CVJS Award for Best Stage Presentation

Mouth Beats
---
2009 PARTICIPATING GROUPS

---

Crimson - Red lipstick, great handbags, high heels and a pitch pipe…ready for action is Crimson! Cheyenne Mountain High School in Colorado Springs, Colorado has been proud to have this a cappella ensemble in their vocal music department since 2001. The group has thrice represented the West Region at the International Championship of High School A Cappella Finals at the Lincoln Center in New York, scored as National Champion in 2005, and recently won the 2009 West Semifinals! They have also won accolades for outstanding soloists and choreography and appeared on the Best of High School A Cappella compilation in 2005 and 2008. Crimson was selected for an honor performance at the 2005 and 2009 CO Music Educators Conference, and has received numerous awards at music festivals across the country under the direction of Dawn Wisdom.


Members: Tara Boyette, Renee Freyschlag, Maddie Garcia, Mackenzie Hahn, Katie Lee, Eve Jennings, Chelsea Ringer



---

Home Free - is a distinctive blend of comedy and music. With their extensive theatrical and musical training leading the way, Home Free's performances showcase a new, animated, and electrifying experience that leaves audiences breathless. Built upon the acoustic beauty of "a cappella" and combined with one astounding vocal percussionist, Home Free has been amazing audiences all over the Midwest since 2000. Home Free is doing what they love, anxious to continue pushing the boundaries of what they can do, both musically and professionally.





Members: Rob Lundquist, Jon Mclemore, Elliott Robinson, Adam Rupp, Chris Rupp


---

---

Mouth Beats - No words, just rhythms, sound effects, and vocal percussion. MouthBeats explores the sonic barriers between vocal and instrumental music. Fusing pop, rock, jazz, world, and military styles, MouthBeats is on a never ending hunt for new beats, new sounds, new grooves.


Members: Tim Jones, Matt Murphy, Chris Schenk, Richard Steighner


---

Pandora Celtica - This ensemble got its official start in 2004 with just three vocalists: Chaz, Traveler and Traci. After a few songs, they had this crazy idea that they could be a killer a cappella Celtic band. That summer, Traci left the band and Amanda jumped in to add her unique spirit and sound. In January of 2006, PC added four more voices, two of which were Rion and Jen. Over the years there have been many twists and turns, but one thing has remained constant for five years . . . If it sank, we'll sing about it!!


Members: Rion Bergquist, Amanda Efron, Jennifer Gardine, Traveler Hawk, Chaz Kemp


---

Raging Harmonies - Our group is made up of juniors and seniors at Westminster High School in the Denver Colorado suburbs. This a cappella group, under the direction of Melissa Flail, is a very diverse collection of enthusiastic students from the Westy choral program. Raging Harmonies represents the High School and Adams County School District 50 at community and regional events, and they recently performed at the Colorado Convention Center for the Association of School Business Officials International Conference. The students enjoy creating and performing music that is important to them.


Members: Charlie Chang, Sandy Chang, Jeremy Hurtado, Katarina Lobato, Taylor Medrano, Geoffrey Padilla, Katherine Wemhoner


---

The UCD 7 - We are the University of Colorado at Denver's premiere seven-member a cappella ensemble. As the University's first competitive performing group, these elite singers and performers have many singing engagements throughout the semester both on and off campus. The UD 7 has been a finalist in the Rocky Mountain Harmony Sweepstakes, and do their best to perform an eclectic and humorous variety of a cappella music.


Members: Jeff Alvarez, Kirk Dugan Erin Hackel, Kameshia Hazard, Janessa Ho, Lucas Reeves, Jamie Salgado, John Paul Sharp


---

Wonder Voice - Four seasoned singers and one vocal drum-meister take on the great pop hits of yesterday and today. The members of Wonder Voice capture the energy and enthusiasm of an instrumental band using only their voices.



Members: Jason Guffey, Tim Jones, Matt Murphy, Bryce Robinson, Kai Robinson



---

2009 Judges

Paul Argentiere, New York City native, has been both a professional vocalist and instrumentalist in his music career including performances at the famed Radio City Music Hall. He trained in guitar and bass guitar and was one of the original members of the rock and roll group, 'The Outlaws,' who achieved wide-spread notoriety. While Paul prefers to play Œgood ole rock 'n roll', he appreciates many other styles and forms as well. He keeps his chops in shape with two very interesting groups: 'The Basement Boys,' a vocal/instrumental group of friends, and 'Total Recall,' a rock 'n roll band playing danceable charts from the 60's--90's along with several a cappella tunes.

Greg Glasgow is the arts and entertainment editor for the Daily Camera newspaper in Boulder, where he has worked covering music and entertainment for the past ten years. A Boulder native, he was a member of Fairview High School's elite Excalibur jazz choir in 1988 and 1989, and won a Œscat' singing contest at the University of Northern Colorado's UNC/Greeley Jazz Festival as a high school senior. He was also the lead singer of local band Œfortywatt' from 2000 to 2006.

Larry Meerdink is a Denver Native and is presently Director of Choral Music at Horizon High School in Thornton. He has been selected for Who's Who in American Education, and has been a finalist for Disney Teacher of the Year. Larry has been singing all his life including for several years with Opus IV in the early days of A Cappella's on 17th Street. His jazz choir Spectrum has been selected to perform at CMEA, has won top group at the CHSAA A Cappela/Vocal Jazz Festival, and top group at the Northwest Jazz Festival while competing against college groups. He presently sings with Kantorei and fly fishes whenever he gets the chance.

Tom Miles is a founding member of Curious Gage in Fort Collins, as well as its music director and bass. The five-person vocal band has been performing throughout Colorado for seven years, winning the Rocky Mountain Harmony Sweeps in 2006. Performing for most of his life, Tom's background includes large and small traditional choirs, including Augustana College Choir and Chamber Choir in Sioux Falls, South Dakota, and the Rocky Mountain Chamber Singers in Loveland. He has worked as worship and music director at Saint John's Lutheran Church in Fort Collins for six years, where he directs the Contemporary Worship Team and the adult choirs..



---

---
---
Keep in touch with the Colorado a cappella scene! Subscribe to this regional resource for a cappella fans and groups.
Stay informed about upcoming shows and auditions, find a new member for your group
or just keep up with the local a cappella news.
---
Interested in Competing?
We are always seeking groups who would like to compete in our events.
Groups of any style are welcome, but you must have between 3 and 8 members. We have a rule book which explains many of the details of the event, which you can see by clicking here. All groups must audition in order to compete. Generally this is done by sending a current tape and photo, although live auditions are sometimes arranged. The purpose of the audition is to make sure the group is appropriate for the Festival and to help the Director determine the performance order. If a group has competed previously, the audition process may be waived.

How to enter

Please send tapes and photos to the regional director :
Sarah Moss has more than 10 years of experience in message-based events, communications and partnership development. She translates skills learned on the political campaign trail (municipal to presidential level) and in professional sports stadiums/arenas to projects for nonprofit, government and corporate social responsibility clients of her business, Sarah Moss, Inc. Sarah has sung in 11 community and school choirs in Colorado and Washington, D.C., and has participated in amateur theater, musical theater and improv comedy.

Please contact Sarah Moss
303-219-0639
SarahEMoss (at) gmail.com
The Harmony Sweepstakes National A Cappella Festival
PO Box D
San Anselmo, CA 94979
(415) 455-8602
harmony@singers.com
---
Prizes

Regional winners win roundtrip airfare plus two nights accommodation in the San Francisco Bay Area to compete in the Harmony Sweepstakes National A Cappella Festival

A selection of compact discs from the Primarily A Cappella catalog

A $250 coupon from Discmakers