25th Annual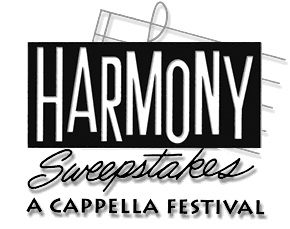 The Harmony Sweepstakes A Cappella Festival, the premier American showcase for vocal harmony music. The annual national competition draws from hundreds of vocal groups from around the country with regional competitions in eight cities. The winning group from each festival is flown to perform in front of celebrity judges and a sold out house of enthusiastic a cappella fans at the National Finals.
2009 Mid Atlantic Champions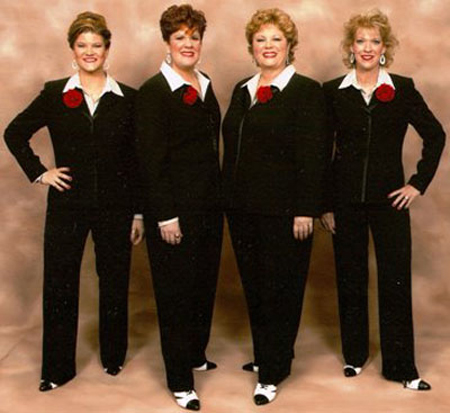 MAXX Factor, a Sweet Adeline Quartet, was formed in 2004. This current foursome has been singing together since August 2007. Lead Leslie Wodday became a Queen of Harmony in 2000 with Signature Sound Quartet. She joined MAXX in August of 2007. Founder Valerie Hadfield-Rasnake is a barbershop brat. She sang with Region 19 medalist Quartets Ritz Carleton and Vanity Fair. Co-founder Baritone Kim Hudson, also a barbershop brat, has sung with Region 19 medalist quartet Vanity Fair. Prior to joining MAXX in 2005, Tenor Molly Plummer sang with Region 19 multi-medalist quartet RhythmWorks. Molly and Valerie are members of the International medalist chorus Pride of Baltimore. Kim and Leslie, currently Chapter-at-Large, have competed internationally with the Pride of Baltimore chorus.

2009 Results

1st

MaXX Factor

2nd

DoubleShot!

3rd

Cameron Station

Audience Favorite

Cameron Station

Best Original Arrangement

"Joy To The World" - DoubleShot!
---
2009 Participants
Cameron Station - A select male ensemble auditioned from the ranks of the world-renowned Alexandria Harmonizers, Cameron Station offers audiences a tight, seamless, vocal blend of rich harmonies in a multitude of musical genres, including jazz, blues, folk and Broadway. High-level vocal and visual performance skills are the hallmarks of this exciting a cappella ensemble.


Members: Eric Wallen, Steve White, Ken Ives, Troy Hillier, Tony Colosimo, Craig Kujawa, Carl Kauffmann, Dan O'Brien.
---
Doubleshot! - Pittsburgh's ONLY All-Vocal Band! The DoubleShot! guys serve up contemporary a cappella, combined with traditional elements and their own unique twists, to the audience with energy and laughter. Since 2006, the boys have been having a blast with Harmony Sweeps audiences all over the country and stages back home in Pittsburgh where they have been featured on local television, radio, newspaper, and on the stages and screens of the city's major sports stadiums and performance venues. DoubleShot! has received multiple accolades on Sweeps stages, including their debut in 2007 where they won First Prize, Audience Favorite, and Best Arrangement at the Mid-Atlantic Sweeps to become Pittsburgh's first ever Sweeps National Finalist.


Members: Luke Clavey, Steve Donnelly, Dave Wilson, Nate Wildfire, Mike Yanchak
---
Glorious - Glorious was formed in December of 1997 by group member Larry Arrington. Since its conception, Glorious has become one of the premier Gospel groups in the city of Richmond. We believe that our purpose in music is to spread the word of God through our unique form of ministry.


Members: Eugene Gleaton, Barry Fleming, John Elliott, Wilson Cleary, Michael Lemon
---
Lustre - For the last four years, Lori, Lori, Laura and Jenny have performed all over Maryland for public, corporate, and private parties and events. Singing music which goes beyond traditional barbershop music, Lustre loves to include pop, jazz, and American standards in their shows. Lustre has been in the radio studio, in the recording studio, and on the concert stage at Merriweather Post Pavilion. In addition to these public performances, Lustre competes annually in Region 19 of the Sweet Adelines International organization, and in their three years in competition, Lustre has won numerous awards. Lustre heads to Ocean City, MD once again to compete in April 2009.


Members: Laura Rivera; Lori Crouter; Lori Dreyer; Jenny Harris
---
MaXX Factor - MAXX Factor, a Sweet Adeline Quartet, was formed in 2004. This current foursome has been singing together since August 2007. Lead Leslie Wodday became a Queen of Harmony in 2000 with Signature Sound Quartet. She joined MAXX in August of 2007. Founder Valerie Hadfield-Rasnake is a barbershop brat. She sang with Region 19 medalist Quartets Ritz Carleton and Vanity Fair. Co-founder Baritone Kim Hudson, also a barbershop brat, has sung with Region 19 medalist quartet Vanity Fair. Prior to joining MAXX in 2005, Tenor Molly Plummer sang with Region 19 multi-medalist quartet RhythmWorks. Molly and Valerie are members of the International medalist chorus Pride of Baltimore. Kim and Leslie, currently Chapter-at-Large, have competed internationally with the Pride of Baltimore chorus.


Members: Molly Plummer, Leslie Wodday, Valerie Hadfield-Rasnake, Kim Hudson
---
Skyline - Skyline's repertoire offers no limitations on style or genre. With beat boxing, soaring vocals, layered harmonies and highly unusual arrangements, Skyline produces a unique sound that blurs the genre line, garnering them fans from alternative, mainstream and vocal music worlds alike. You'll like what comes out of our mouths.


Members: Chris Wong, Marco Ovando, Eric Pilar, Derick Eng, Hugh Gee, Ward Ferguson
---
Tonic and Gin - Tonic and Gin continues to be one of DC's finest vocal bands. Combining rock, pop and other musical genres, T & G entertains audiences with intriguing arrangements, amazing soloists, and a whole lot of fun!


Members: Nate Pipke, Alison Torrillo French, Marissa Hodgkins, Amy Fromm, Bruce Shim, Jeeves Murphy, Jeff Hayes
---
---
Previous Mid-Atlantic Results :- 2008 - 2007 - 2006 - 2005 - 2004 - 2003 - 2002 - 2001 - 2000 - 1999 - 1998
---
Prizes
Regional winners win roundtrip airfare plus two nights accommodation in the San Francisco Bay Area to compete in the Harmony Sweepstakes National A Cappella Festival
A selection of compact discs from the Primarily A Cappella catalog
A $250 coupon from Discmakers
---
Keep in touch with the Mid Atlantic a cappella scene! Subscribe to this regional resource for a cappella fans and groups.
Stay informed about upcoming shows and auditions, find a new member for your group
or just keep up with the local a cappella news
---
Groups of any style are welcome, but you must have between 3 and 8 members. We have a rule book which explains many of the details of the event, which you can see by clicking here. All groups must audition in order to compete. Generally this is done by sending a current tape and photo, although live auditions are sometimes arranged. The purpose of the audition is to make sure the group is appropriate for the Festival and to help the Director determine the performance order. If a group has competed previously, the audition process may be waived.

How to enter

Please send tapes and photos to the regional director :
Ted Donat (Washington DC) has been producing the Mid-Atlantic Regional for five years to sellout crowds at The Birchmere Music Hall in Alexandria. Ted has been singing, writing, arranging and producing music for over 20 years. Ted's competitive a cappella experience began in earnest in 1984, when he joined the Amherst College Zumbyes, who would win the coveted Silver Chord Bowl two years running. Ted settled in New York City in 1987, where he would sing in several a cappella groups and play in a number of bands. Most notably, Ted sang with the group Downtown Vocals, which he would eventually go on to direct. In 1999, Ted relocated to the DC area and joined dcVocals, assuming the musical director mantle of that group in 2000. In 2004, Ted left dcVocals in order to concentrate on writing and playing with his original music project (the kind with instruments) - The Slow Burn
3817 Prince William Drive
Fairfax, VA 22031
703-373-5251 fax 703-564-5624
tdonat at gmail.com
The Harmony Sweepstakes National A Cappella Festival
PO Box D
San Anselmo, CA 94979
(415) 455-8602
harmony@singers.com

---
Home | Boston | Chicago | Denver | Los Angeles | New York | Pacific North West | San Francisco | Washington DC
---
Read the latest reviews, articles, features and more - A CAPPELLA NEWS SEARCH OUR DATA BASE OF THOUSANDS OF A CAPPELLA RECORDINGS

To find a specific song on any recording (or to find recordings by group name or CD title),
pick the search method and type the item you are searching for here: